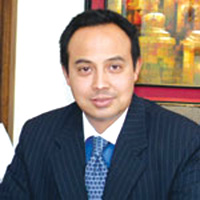 Megha Bank is yet another addtion to the already crowded banking sector in Nepal. It calls itself Nepal's first "5 star bank"
But is it so easy?
I. The fact that the bank has so many promoters means that there is likely to be a recruitment nightmare. Nepali bank promoters are notorious for pushing their CEOs to hire their own sons and daughters and nieces and nephews at banks where they have invested money.
II. It won't be easy to satisfy so many promoters. Most banks with smaller promoter-base continue to have problems between the management and the owners/promoters.
III. The idea of "five star banking" sounds nice, but what exactly does it mean? It does not seem to mean, at least from the interview, private wealth management.
IV. "Five star banking" seems to conjure up images of fancier lobbies, plush carpets, stunningly beautiful secretaries, abstract paintings on the wall, and the whole nine yards-- all of which are likely to jack up the cost of doing business for the bank.
As any business pundit knows, it's impossible for any business to be everything to everyone. Still, who knows, in a country where only 26 per cent of the people have access to some financial services, the entry of this new bank with a nation-wide ambition is to be welcomed.


Last edited by ɾɹɐ on Fri Jan 15, 2010 11:43 am; edited 1 time in total