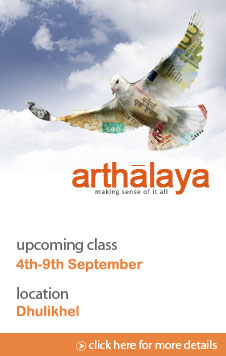 Next edition of arthalaya is on air
Dear all,
To realize the vision of a prosperous Nepal, young people have an eminent
role to play.Be it in taking the first step towards enterprise building or towards shouldering the risk and leadership it takes to be innovative and creative.
arthālaya (School of Entrepreneurship and Economics) is a five day workshop promoting the spirit and skill of entrepreneurship and sensitizing young people about economic freedom and policy regime.
The main purpose of this program is to help young people explore alternative ideas for Nepal's existing problems; to help young people understand the value of entrepreneurship and to help them learn the know how of building new businesses and inject new ideas into the economy for promoting economic reform. The program will include mock debates; business simulations that will help youth understand the importance of entrepreneurship, implications of various policy measures and role of private sector and government in economic reform. There will be case studies, lectures from experts and various experiences sharing sessions.
Eligibility: For participation, applicants must be students of undergraduate, post graduate or recently graduated from any faculty. Don't miss this opportunity to bring out the leader and innovator within you; do apply today. Only 24 seats available per batch.
Upcoming arthâlaya is scheduled for:
4th -9th
September, 2009
Location: Dhulikhel, Kathmandu
Commitment fee: NRs. 750/
(Payable only when selected)
The organizers will bear all participants' board and meal expenses during the 5 day school.
In order to participate, applicants are required to fill application form (Found at:
http://www.samriddhi.org/userfiles/docs/arthalaya/arthalaya_application_form_September.doc
and send them to
info@samriddhi.org
You can also drop them at Samriddhi office no later than Thursday, 2nd July
2009, 1700 hrs. The hard copies of this form are available also at office. For
more information visit arthâlaya at
www.samriddhi.org
Only short listed candidates (chosen on the basis of application form) will be contacted.